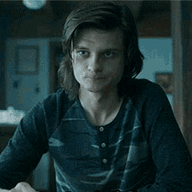 Messages

538
OOC First Name

Kris
Blood Status

Mixed Blood
Relationship Status

Single (Not Looking)
Age

03/2039 (17)
Ryan brushed a trail of water from where it'd landed on his forehead, undeterred by the damp branches around them as he pushed forward into the forest. It'd taken some planning and convincing to get Augustus out here but after finally managing it he wasn't going to let a little bad weather discourage him. The night around them was extra dark thanks to the heavy clouds overhead and Ryan's eyes strained to see the way as he trudged over the tree roots, leading the way. At least they didn't have to worry as much about being spotted this way, though Ryan had a plan for that too. Hopefully it wouldn't be needed.
"
It's been way too long to find any tracks or anything, but maybe we can still find something, left over teeth or skin or something
," He said over his shoulder, half to Augustus and half to himself. He'd gleaned enough information between his sister and news on the trial of Lysander and the other student he'd been caught out here with to know there'd been a basilisk at some point in this forest and with any luck that could find out more with a little poking around.