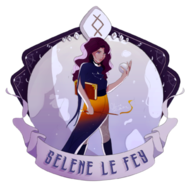 Twin, Lost, Seer in training.
Selene was happy with her patrol partner this year. She had enjoyed patrols with Cyzarine last year. the Gryffindor was fun and bubbly and she would miss her. but Lars was someone else she knew she would enjoy patrols with. At least so long as things didn't get awkward given what she had done at the end of last year. he was closer friends with nell than he was with her and she hoped that nell hadn't hold him a version of the story that made her look like a heartless person. especially as it was similar to what she had vaguely heard had happened between him and Eliot.
The plan had been to meet in the prefects common room and go from there. She entered the room and put her bag down. they could pick it up before heading to the upper floors. she had books in it that she had borrowed from the library and she didn't really want to carry them over the whole patrol. she grabbed a banana out of the fruit bowl and peeled it as she waited for lars looking at the noticeboard with the roster and the list of people wanting to switch patrols most of them seemed to be because the person had quidditch practice at the same time. she took the pencil and put her name next to someone who wanted Saturday afternoon off. she had no plans and there wasn't too much homework to do yet.