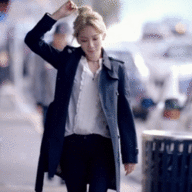 contrary fairy 🌻 unrepentant cat thief
Messages

227
OOC First Name

Mika
Blood Status

Muggleborn
Relationship Status

Single (Looking)
Sexual Orientation

Asexual
Wand

Curly 9 1/2 Inch Swishy Willow Wand with Unicorn Hair Core
Age

June 20th '38 (17)
Freya had a problem. She had been at Hogwarts for six entire years and still hadn't broken the news about being a witch to her brother. It was getting harder to keep it a secret now that he had his own place and let her stay for the holidays. He expected letters, updates, news about what she was doing, and Freya web of benign lies was beginning to unspool in the most uncomfortable way. She was certain she didn't used to care what Soren thought of her. It had been so much easier when they had separate lives in the foster system and she could play her absence off as inevitability of being a problem child.
Freya didn't want to bother her housemates with asking for advice. She'd already done the emotional breakdown thing once and wasn't looking for another impromptu haircut. That left her with exactly one other person she could think of who might potentially understand muggle issues, and Freya was already beginning to regret her decision once she had made it. It didn't take too much effort for Freya to figure out where Poppy was most likely to be at this hour, and she leaned against a wall in an attempt to look nonchalant while she wracked her brain for some idea on how to have an actual conversation with Poppy that didn't end in disaster. Her time for thinking came to an abrupt end as her target came into view.
"Excuse me, do you have a moment to talk about the plight of the Eastern Spotted Snarblegarber?"
Freya swooped in to corner Poppy, which was really not the approach she had intended, but Freya had blanked and her patented line of nonsense had taken the reins.
@Poppy Perkins