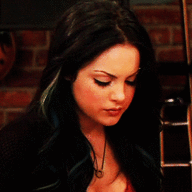 Ex-Police Officer ♦ Auror
After watching Cat Tennon and seeing her lose the election, Amara Madden had a bit more time on her hands. She decided to explore more of New Zealand a bit. The Auror did not know much on the location. She walked around Obsidian Harbor and found herself in a darker alley. This was what she was used to, in her days as a cop in the United States, in a land of no-majs. She disregarded her magical heritage for a while, but regained it, and was able to become an Auror not long after moving her and Otis down here. At least their mom was still nearby for support. Amara waved her wand and lit her wand, having some flashbacks to when she would be investigating or going after a criminal with a flashlight. But, as she went to the voices, she stopped when she saw a witch roughly her age. Well, somewhat. She lowered her wand, and decided to ask,
"What are you doing down here? This looks like an area for hags and other creatures."
Amara kept her guard up, though, and it was evident in her tense body.