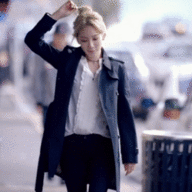 "storyteller" 🌻 contrary fairy
The day was drawing to a close and it would soon be time for dinner, but Freya wasn't interested in heading to the Great Hall to join the packs of roving wizards hunting for sustenance. She still had copious amounts of muggle candy left from her mad stockpiling after coming to the realization she wouldn't be able to just walk down to the shops after school anymore, so half her suitcase had been designated as candy space and Freya considered that to be an absolutely masterful choice. Magic had been.... an adjustment, and Freya wasn't completely on board with being a witch, but she could hardly just walk off school grounds and disappear into the wilds. Well, she could, but last time she'd wandered off the property of her carers, she had "caused a panic" and been given some kind of lecture she'd completely tuned out.

Instead of subjecting herself to socialization, Freya made her way up to the towers because it sounded like the exact opposite of where most people would be going at the time. She'd unpicked the hem of her uniform skirt so it fell almost to her ankles, like those sukeban girls in old films, and she had to be careful not to trip as she climbed the stairs. Being stuck in boarding school wasn't as rough as she'd feared, but Freya's quiet rebellion made her feel better about the situation regardless. She found a sunny spot near a window and, wondering if she had been a cat in a previous life, settled down to watch the sun set.