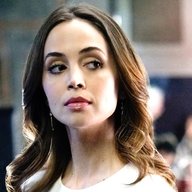 Obliviator for MACUSA | HNZ 1st Graduating Class
Messages

9,176
OOC First Name

Amanda
Blood Status

Half Blood
Relationship Status

Widow
Age

45
Estrella Drage was thirty-five years old and a mother of four. All of her kids were away at school and while the Obliviation Squad kept her busy, it couldn't banish the boredom that seeped into every cell in her body. One Thursday in November, she couldn't take it anymore. She informed her boss at the Congress that she was going on a month-long holiday, packed her bags, grabbed the first Portkey to New Zealand, and promptly hurled up her cheeseburger and fries on the roof of an abandoned car park. It didn't matter which method of transportation she tried; Portkey, Floo, Apparation, they all made her guts twist up. Only flying was comfortable, but not comfortable enough to make it across the continental United States and then the Pacific ocean.

Estrella then gathered up her bags, stepped around the vomit, and showed up at her Aunt Brunhilde's doorstep. Her aunt answered with the grace and poise she always had, and asked no questions, to Estrella's great relief. After a long nap in the spare room, Estrella left to explore Obsidian Harbor.

Little had changed since her last visit. All the old shops were there: Gladrags, the Menagerie, Flourish and Blotts. She popped into Florian's for a mint ice cream and took a walk with her cone. She lapped at the treat, trying to keep it from melting onto her robes under the spring sun.

Estrella stopped at the entrance to Bleak Street. Old fears and anxieties about the place came back to her, but she killed them quick. Those memories were long buried and smothered to death. Chowing down the rest of her cone, she peered down the alley into the shadows, looking for her nightmares.