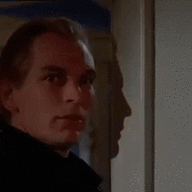 Ex-Death Eater / Horcrux Creator
After looking into his son's mind, it was about time that he went out to meet this Ioan Finch himself. Asparuh Zhefarovich the Third bid his wife farewell for a few hours, or days, since he had to travel to none other than New Zealand from Bulgaria. It wasn't his favorite thing to do, but he had to manage. He dropped by his son's house, Kalif's, to make sure everything was in order and in tact. The children seemed to be doing well, and he was quite proud that his son managed to find a good woman that would take care of the kids, but not be afraid of shedding some blood for the family when needed. She did wonder work on her father when her father killed Jaken, while trying to get their guardian for some unknown reason. All he cared was that their laws were upheld, and that was easy. Nicolette was an asset to the family, and her husband was one as well. Some of the Zhefarovich's have yet to climb the ladder of being an asset and one of his personal assistants, but perhaps it would happen one of these days. Not everyone could be worth it in his eyes.

Throwing his cloak over his head, Asparuh made his way into Bleak Street, having been here before on numerous occasions years ago. He came down here once and managed to terrorize several people, and then some with his son as well. Asparuh arrived to the right address, from what he managed to extract from his son's mind. He walked up toward the door, and with two knuckles, knocked a couple of times before taking a step back. He remained covered, not wanting to reveal much about who he was until necessary. He was still a very active Death Eater, if not the oldest one left. Yet, he was a maker of a horcrux, and the ruler of a family of legend in another country. Tales of his doings wrapped within the family. No one ever wanted to cross his path because of his ruthlessness. He'd fight anything, but the bad thing was, his pride would never allow him to heal himself or go to Saint Mungo's. His pride was epic. He waited outside, hoping someone would answer soon, or else lose his patience.