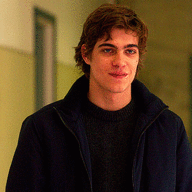 Messages

536
OOC First Name

Steven
Blood Status

Unknown
Relationship Status

Seeing Somebody
Sexual Orientation

Tara
Wand

Curved 14 Inch Sturdy Reed Wand with Erumpent Hide Core
Age

11/2039 (17)
After some back and forth banter, it didn't take long for them to decide to make their way back to the Gryffindor common room, both thinking that the Halloween Feast was starting to get rather boring and that they would rather spend their time talking to each other somewhere else. Tonight definitely wasn't going how he had envisioned it but for some reason he didn't really mind it. It was nice to spend time with someone who didn't feel like punching him every other minute. By the time the two of them had left the Great Hall together and were climbing the many stairs, Stan still wasn't completely sure whether to take Tara serious or not. The only thing he did know for sure was that Tara did not seem to have a problem with letting him know what she wanted from him which took him aback slightly, even if he was used to this kind of behaviour thanks to the twins.
''I'm happy that you are enjoying your time at Hogwarts,''
Stan said as they reached the fifth-floor corridor.