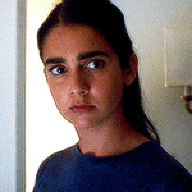 "Indi" 📍 everything is figureoutable
Indi had settled in to Slytherin quite well. Her roommates were...tolerable, for now. There were a couple who were definitely going to turn into problems but there were also some that didn't seem to be totally awful. She had even started to get the hang of navigating around the castle and managed to write to her family. Hopefully they would be satisfied by the letter and wouldn't too pesky when it came to correspondence since she knew she would quickly become busy with school work. The only complaint she had when it came to her house was tragically where it had the unfortunate luck to be located. The dungeons were dark, even in the middle of the day and she hated it.

So today Indi had made her way all the way up to the towers. She had to admit that the view from up here was amazing and it was probably the only thing that made her wish she had been sorted into Ravenclaw instead. It was a curious thought but in the end she didn't think it truly mattered what house you were in as long as you were willing to put in the work. With a sigh she pulled out her History of Magic book and started to read and take a few notes. It was still to early in the semester to have much homework but she thought it would be wise to get ahead before the assignments caught up with her.