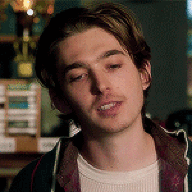 weirdo 👻 latchkey kid 👻 curious
Messages

130
OOC First Name

Kadi
Blood Status

Half Blood
Relationship Status

Too Young to Care
Wand

Straight 9 Inch Sturdy Ash Wand with Phoenix Tail Feather Core
Age

02/2045 (12)
Ethan had become quite comfortable in the forest. It wasn't too different than the other forests he had been in growing up. Of all the places he had lived growing up, the mountain towns in the middle of forests where his favorites. He would spend hours walking around hoping to find traces of bigfoot even when he knew he wasn't in the right territory for it. He had yet to figure out why the forest at school was forbidden though. It seemed pretty normal to him. He glanced back at Yuelia to make sure she was still there.
"Are you sure you want to come with me?"
he asked. Ethan remembered the last time they were in the forest she had only ended up there because of her raven. He was feeling pretty determined today to finally find some creatures but he wasn't sure how comfortable she felt yet. He also wanted to check in on his fort to see how it had lasted over the break. He hoped the weather hadn't damaged it too much. He didn't want to spend all year rebuilding.
Last edited: