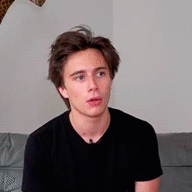 bookworm; good-natured; hm reporter; chaser
Messages

833
OOC First Name

Emzies
Blood Status

Mixed Blood
Relationship Status

Seeing Somebody
Wand

Knotted 16 1/2" Sturdy Black Walnut Wand with Basilisk Skin Core
Age

5/2041 (15)
------------------------------------------------------------
I walk into the dead of night ,
Where my monsters like to hide ,
------------------------------------------------------------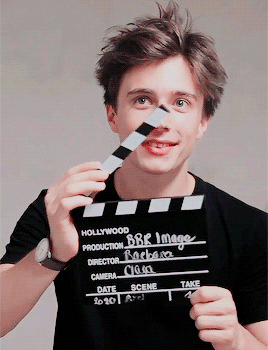 Say Hello to
Branson Moon Archer
!
------------------------------------------------------------
Chaos feels so good inside
I lost control again ,
------------------------------------------------------------
​
MEANING​
Branson - The name Branson is a boy's name of English origin meaning "son of the raven"
​
Moon - Moon' derives from 'moone' or 'mone. These words, inturn, originated from Old English term 'mona'.
​
Archer - Archer is the transferred use of an English surname originating as an occupation name to signify one who made a profession out of being a bowman. The word comes directly from the Old French "archier" from the Latin "arcus" meaning "bow".
​
WHY​
Branson is named after his great uncle who died shortly before his birth. It was a name that for his parents made the most amount of sense. It reminded them of who they had lost while also introducing them to a whole new, independent person. Branson knows from the way his parents speak how pivotal the man was in the latter years of his life to his father. Branson does like his name, it feels occasionally a little old fashioned but he does like it and he feels like it is a good name for him. Being named after someone who was important is a nice feeling. The middle and last names are connected being his mother's maiden name and his father's surname respectively, his parents thought it would be important that he carry both of them in his name because they were both playing a role in raising him and his siblings. Branson enjoys his whole name, he has some mixed feelings about his surname, or his father's name, he loves his father and is proud of it, but he knows that the Archer name has some implications, for him specifically, so he is somewhat ambiguous about it. He likes having both names and is overall very pleased with his name. He likes being Branson Moon Archer.
​
NICKNAMES ​
Branson's first name is often shortened down to Bran, whether by his parents or his siblings. It's just an easy way to shorten his name down and definitely isn't something that he would mind in the slightest. He likes having the nickname, it's just a short version of his name, it rolls of the tongue easier, it tends to indicate that someone knows him well. It is something that he has begun introducing himself as as he meets new people. It used to only be his family but he thinks it might be cool to have a nickname and for people to call him that. He isn't sure it'll stick, he's seen other people's nicknames come and go with time, with who they are around but he just thinks it would be neater to be known as Bran than Branson.
​
AGE ​
Currently Branson is 11 years old. His family are a quiet and close knit bunch but given that they are somewhat in the magical world they don't interact with their muggle neighbours or classmates all that much, meaning that a good number of his birthdays are just him and his family with some cake. Though he does think it would be cool to have a full out party or invite loads of people, he actually really enjoys being able to just relax and spend time with his family, there's no drama, there's no stress, it doesn't cost anything and he has always been a family boy. He loves his parents and his sisters so he would happily spend his birthday with them. Even while at school he is definitely still keen to spend his birthday with his dad, which he'll be able to do while at school, since his dad will be there. Branson likes going to other people's big birthday bashes but would ultimately really dislike it for himself.
​
D.O.B. ​
7 May 2041. Branson was born at St. Mungo's hospital without too many issues. He was to term and a healthy size. His parents were very cautious with him and the pregnancy but he was a healthy baby. He was immediately surrounded by family and was loved deeply by his parents from that first moment.
​
FAMILY​






Name:

Kate Archer


DOB:

may 2015


Relationship:

Mother


Occupation:

teacher


Blood status:

muggleborn






Name:

Stefan Archer


DOB:

april 2015


Relationship:

Father


Occupation:

librarian


Blood status:

muggleborn






Name:

Rosie Archer


DOB:

december 2043


Relationship:

Sister


Occupation:

n/a


Blood status:

mixed blood






Name:

Aurora Archer


DOB:

december 2043


Relationship:

Sister


Occupation:

n/a


Blood status:

mixed blood
FATHER​
Stefan Archer, muggle borns wizard, librarian at Hogwarts New Zealand.
​
Stefan was born and raised in New Zealand, he was the only child of his parents. His mother died when he was about two years old and he was left with his father who succumbed to his grief and was often very violent towards both Stefan and the household. Stefan didn't have any friends, didn't go to school, and was largely kept isolated from the world. Eventually it was discovered he had magic and he was brought to Hogwarts where he was sorted into Slytherin. His time at school was rocky, caused in part by the fact he always had to go home to his father and with a lack of social skills since he was really able to develop them. He didn't even in part realise that he wasn't supposed to be treat how he was until later. Stefan's father died when he was in fifth year and was left to fend for himself. He dropped out of school and focused on trying to get things together. Beginning to work at a local bookstore. He eventually came back to school for his seventh year and graduated. He continued to work at the bookshop and during this time got together with Branson's mother, Kate. He eventually started working at Hogwarts in the library which was flexible as he soon had three child with his wife. He is now the head librarian at the school.
​
MOTHER​
Kate "Moon" Archer, muggleborn wizard, primary teacher.
​
Kate Moon was born and raised in Ireland before the move to New Zealand. She has a twin and two other siblings. She went to Hogwarts New Zealand along with Stefan. She had scattered grades but eventually in her seventh year was head girl. She is currently a primary school teacher at a local primary school - though not the one that her children do attend.
​
SIBLING(S)​
Aurora Moon Archer, younger sister
​
Rosie Moon Archer, younger sister
​
OTHER​
Branson has no grandparents on his father's side, but he does have an uncle Tybalt Archer who is married to Rhiannon Archer formerly McGowan, and an aunt Lydia Warrick, who is married to Felix Warrick and they have one child, Mason Warrick. One the other side, he still has both grandparents, and an aunt Sara Moon.
​
RELATIONSHIP TO FAMILY​
Branson is exceedingly close to his family, and closest to his father. Being the first born child in the family, he spent the most amount of time alone with his father. He loves him dearly and they get along well. Bran spends a lot of time with his father whenever he's home from work. They spend a lot of time together reading, and his father has helped him a lot. He spends a lot of time reading different books with him. Bran knows theres something about their family that his father has never mentioned but he's also too afraid to ever ask. He is also still very close to his mother, he has learned a great deal from her and knows how good to be to people. He is also very close to both of his sisters, he's exceedingly protective of them both. They are younger than him, and he wants nothing more for them to always be safe and happy. They are an exceedingly close knit family.
​
PET(S)​
There are no pets in the Archer household, but he has asked for an owl for when he goes to school, even though his father is at the school with him, to be able to at least write back to his sisters.
​
BLOOD STATUS​
Mixed blood - Both of his parents are muggleborns
​
THOUGHTS ON BLOOD STATUS​
Branson knows there are problems in the magical world with blood, but Bran has not ever really cared about that sort of thing. He likes his family, and likes who he spends the time with regardless of status. It helps that his family, has been very careful to teach him about status and teaching with everyone with respect and his family doesn't have much of a status or much money so he's never put much into having a high status.
​
HOMETOWN​
Bran has lived in the same place his whole life, it's a little country house, big enough for the whole family but far from anything. He doesn't know exactly where it is, but he loves it regardless.
​
CURRENT RESIDENCE​
Branson has never moved, but he loves his house. He loves how big the grounds are, he loves being able to go outside, practice quidditch, have magical plants and flowers from the who time. He loves the house entirely.
​
THE PLACE TO LIVE​
Branson really likes Brightstone. He'd love to live there, as much as he enjoys the quiet and space of his current house, he would love to live closer to where all of the action is. He likes going to book shops and spending time in new places. He likes seeing things and just being able to go out whenever he wants.
​
PREVIOUS HOMES​
Bran has never lived anywhere else.
​
SEXUAL ORIENTATION ​
CURRENT RELATIONSHIP STATUS​
CRUSHES PAST AND PRESENT​
FIRST KISS​
FIRST FRENCH KISS​
PAST RELATIONSHIPS​
FLINGS​
THE FIRST TIME​
------------------------------------------------------------
Never said I was an angel ,
I am damaged all the way
------------------------------------------------------------
​
In his appearance Branson takes after his father a whole lot, it's the same shade of dark brown hair, that his father has. Branson's hair is more unruly and is kept much longer. He likes having it go all over the place and likes when it looks like he just got electrocuted. He doesn't let it grow out too long, but long enough that it can get in the way. His sisters love to play with his hair and he never really minds when it does things that are a little erratic in his hair, or when his sisters put glitter in it, or anyrhing like that. He doesn't mind his hair as it is, and is okay with how people treat it. He would never shaved it off, but he'd do dozens of other things to it.
​
HAIR HAS BEEN DYED​
Branson has never is unlikely to ever dye his hair. He likes his hair as is.
​
EYE COLOUR ​
Again, much like with his hair, Branson has a near identical eye colour as his father. It is a deep blue colour. The same as all of the men of his archer family. It is certainly just a dominate trait within them. He doesn't really see the colour, his mother is the one who always tells him how beautiful they are. His sisters too, specifically because Aurora has eyes that are somewhat close to his, according to her. He does like that he shares that with his father and his uncle. It helps him feel a part of that family. He also knows that his great uncle who he is named after also had the same colour of eyes as him. It helps him connect to all of that. He sometimes wears glasses which do sometimes dull his eyes a little.
​
BIRTHMARKS/FRECKLES/SCARS​
Branson has a small birthmark on the bottom of his neck. He has several freckles around his face, with one prominent under his lips. He doesn't have any visible scars, while he enjoys a lot of what life has to offer him, he is quite a careful person, or at least he tries to be, he is a little clumsy and tends to trip over things that aren't there, but he always tries to be careful. He has seen his father's scars and would just much rather never have anything like that in his life. Branson doesn't mind the freckles or birthmarks as much, he knows they are just a part of who he is.
​
BODY TYPE ​
Branson is not a particularly athletic person, he'll take part in the odd game but he hasn't yet joined any sports teams. He doesn't feel the need to either. Branson has a slim build, he eats well and eats pretty healthy too. He does spend a lot of time reading, and is often with a book. He's just not that much of a sports person.
​
BLOOD TYPE​
They learned this shortly after he was born, because of the muggle part of the family, his parents had decided they would let themselves be sure of blood type and allergies just in case he was injured or something happened under their care where they wouldn't immediately be able to use magic.
​
WHICH HAND?​
His dominant hand, has always been his left. He picked up a pencil with it, pretend he was holding his first wand with it. He isn't particularly good at using his right hand for much, his handwriting comes out as much scrawnier and more difficult to read. He's happy with his left hand being the dominant one.
​
VOICE ​
Much like his father, and most of his peers, Branson has a kiwi accent. He has been raised amongst both Irish and Kiwi people so he perhaps has a slight twang to it than others might have, but he has a kiwi voice.
​
LANGUAGES​
Branson speaks two languages, he speaks english fluently, since it's the language of the country he's in. He is conversational in Irish, he doesn't know how to read it particularly well, and can't really write it, but he can speak it and understand it. He has learned a very small amount of maori from his school, but not a whole lot.
​
ALLERGIES​
Branson has no known allergies
​
PERSONAL STYLE ​
Branson mostly wears the clothes his mother buys for him. Currently he doesn't have a distinct style, he wears jeans a lot, will wear the odd baggy t-shirt or jumper. They don't have a whole lot of money in the family, but his clothes fit in the manner they're supposed to and he always get what he needs, if he needs it.
​
CURRENT PLAYBY ​
------------------------------------------------------------
Don't see myself inside ,
Why can't I get it right ,
------------------------------------------------------------
​
Branson loves books, he loves reading them and much like his father he does also gain a lot of satisfaction from just sorting them. Branson likes warm weather, he likes quidditch and flying. He likes spending time with his friends, going to museums and getting ice cream. Branson enjoys spending time with his family and loves playing board games with them.
​
CHARACTER DISLIKES ​
Branson dislikes dark spaces, he doesn't particularly enjoy night time and he finds sleeping in pitch black difficult. Branson dislikes those who think reading is dumb, he doesn't like spending time with people who'll make fun of others for reading. He doesn't like storms and he doesn't like when theres lot of wind.
​
GOALS ​
Branson isn't sure what he wants to do with his life, he likes books and reading but he isn't sure that'll be something that he can do anything with. He isn't sure he'd be able to work in a library because too often all he'd want to do is read the books inside it, he likes writing but doesn't think he would ever do that. He doesn't think he'd be good enough at it. Mostly he's just happy and would be happy at a good life, if he made good friends, had a family of his own down the line. He wants to live comfortably.
​
BOGGART ​
For branson it would take the form of one of two things. One it would take the form of any of his family hurt or dead, with him being unable to come to their aid. He is loyal to a fault to his family, keen to make sure they are okay and wanting to always make sure that they don't have to suffer at any point. He would hate to see any of them come to harm and he would be terrified if he didn't know how to help him. He's a reader, not usually an entirely practical person. The other thing he would possible see would be an impossibly dark space, where he'd be unable to see anything and the walls would be closing in. He isn't normally claustrophobic but if he can't see the walls and can only feel at them he usually will start to panic.
​
PATRONUS ​
Hedgehog - largely because he loves them.
​
PATRONUS MEMORY​
Branson has a lot of good and happy memories, afterall he was raised in a house of love and stability. He has always had what he wanted in life and he is very grateful for everything that he has. Branson has a lot of memories which fill him with an all encompassing joy that he would feel he could create a patronus. Currently he might use his 8th birthday. His dad took him out, taking the day off specifically so that they would be able to spend the day together, they went to a few book stores, went to a museum and got ice cream before heading home to dinner with his mother and sisters. It is something his father does often, just specifically take him or his sisters out alone or together, making sure that they have more than just whole family time. It was nice because the twins were older by this point and he was feeling a little lonely, so his father taking him out to spend time alone and just have fun on his birthday before the usual birthday dinner was really nice.
​
DEMENTOR ​
From the moment his sisters were born he was very protective over them. He was young at the time but he felt very responsible for them and very keen to make sure that no harm came to them. This was a little difficult for him when he was younger, but he's always strived for it. WHen he was young, and the twins younger, he would stick by his mother trying to help out with them. His mother turned to deal with Rosie at one point in changing them, and Aurora who'd always been an active baby was moving so much she fell off the changing table. Branson was quick to act and caught her before she hit the ground. It was a terrifying moment for him and where he re-decided that he was going to push hard to always protect his family, to always protect his sisters and be able to always prevent harm from getting to them. His greatest fear is to lose any part of his family. After that incident, it took hours for Branson to let go of her, and even longer to let the twins out of his sight.
​
VERITISERUM ​
Branson loves his family but he would admit with the potion that he is somewhat lonely and jealous of his sisters. THey have each other, everyone in his family has someone else to turn to but him. He kind of would've wanted a younger brother that he could connect with, or he would've wanted a twin himself. A cousin even that just balanced him out like everyone else in his family gets. He knows it's out of his control but he is jealous and it does mean that at times he can be somewhat lonely having no one else and sometimes being a little self isolating. He would likely also admit that he knows something was up about his parent school experiences and that theres something a little up with his father's childhood. He has these scars that Bran can't think of what might've caused them. But he would never admit that.
​
MIRROR OF ERISED​
Branson is a pretty happy boy, he was raised in a stable home, with two parents who provided him with stability and emotional support. His desires in the mirror would reflect back his family where they perhaps just had fractionally more money without them needing to work quite as much. They work fairly standard jobs with standard hours, but he just thinks it would be really nice to spend a little more time with them. He would likely also see an over abundance of books behind him, he would see friends and he would just be a fairly popular, well liked person with more books to read. Branson doesn't have many great desires or wants, he just likes reading and he just likes spending time with friends and family. He doesn't read books and want to be a part of the world in any sense because he likes his life. He's never been one for grandeur or one who desires for his life to be that different from what it currently is.
​
AMORENTIA ​
Currently the only smell it would be is a new book. He just likes going to a book shop, whether a big brand one, a small independent one or a second hand one, he just loves the smell of a new book. It's such a sweet smell to him. The would be the strongest smell, overpowering just about everything else that he would be able to smell in it. His greatest enjoyment is a new book.
​
I LOOK UP TO​
Branson looks up to his father, the boy has figured out that his father's life wasn't particularly good at points, he knows nothing about his father's parents and very little about his time at school. But, he can see how caring his father is towards him and his sisters, he can see how much he loves his work, how good he is with his mother, how much love he seems to have and he just hopes that one day when he's old enough he can have as calm a life as that, with so much love and so much happiness in his work. He also shares in his passion for books, and loves that his father has just never expressed a desire to do more than what he is doing who doesn't think down or let others think down upon him for his choice. He knows that could have more money if his father did something else, but is happy that they are comfortable and that his father follows what he is actually passionate about.
​
RELIGIOUS BELIEFS​
Given that Branson was raised in a magical household, he wasn't raised with any religious beliefs. He isn't sure if his mother held any particular beliefs prior to being magical, but he knows his father never, since it is something he has brought up in the past. During his time at muggle school Branson has learnt about other religions, he has learned about a lot of different elements of them and what the beliefs and practices are. Partly due to his magical upbringing and no one in the house hold practicing, Branson has never been one to believe. He likes reading about it, he likes reading about stories set in those words where it is all as real as his magic but he's never read it and thought that that religion is suddenly for him. It's just cool to read about. Cool to compare them. There's some cool things to him that have come from it that wouldn't be possible if they hadn't had some of it. Though he is not oblivious to the real world harms which have happened in its name.
​
ZODIAC SIGN​
ZODIAC DESCRIPTION​
Underneath their cool, calm and collected exterior, Taureans differ greatly from all the other signs of the zodiac. Taureans manage to discreetly stay apart from the crowd, even though they have a well-earned reputation for being socialisers. They will let others get close, but only so close as they want them. Some claim that trying to get your point across to a Taurean, should they not want to hear you, is rather similar to talking to the trees - they simply won't budge. And, there is no such thing as an open-book Taurean. Their feelings, fears and desires often run far deeper than anyone around them would guess. Like the butterfly that chooses to remain hidden in its cocoon until it is ready and prepared to emerge, so the true Taurean spirit remains hidden behind a veneer of day-to-day activities. That's why Taureans are sometimes regarded as snobby, withdrawn, boring, or even sulky. The truth is, when Taureans manage to operate very adequately on their own form of automatic pilot, they can switch off from the world around them very efficiently. And when they do switch off, they are actually gathering in their inner reserves to deal with the outside pressures. This sign is also very closely connected to 'feeling good'. Most Taureans like their creature comforts and hate change because it takes them out of their automatic pilot condition of separating themselves from the world around them. Because they hate to be put in jeopardy of any kind, this is the sign that strives to create tomorrow in advance, rather than leave it to fate. In love, Taureans are regarded as extremely sensual beings. An earth sign, they deal well with the personal, physical senses and consequently all the pleasures associated with what they can see, touch, smell and taste, add up to a special delight to them. Often nature and pet lovers, Taureans are closely associated with all things off the earth and nature.
​
BASIC PERSONALITY ​
Branson is a quiet and shy person, he is not too outwardly outgoing but amongst friends he'll certainly become more outgoing. He is a reader, and tends to have his head in a book. He is loyal to his family and those he counts as friends. Branson can be quite nervous and tends to shy away in new situations, he can become friends with people but definitely struggles in the beginning and will always be the first to shy away if there are too many people. He is a happy person, who does always aim to help others feel better, he is protective over those he cares about and knows at least with his sisters if anyone were to ever hurt them, he'd tear them apart. He is a clumsy sort of person, and does sometimes in his nervousness or shyness trip up over things and just not always look where he is going. He can be quite curious, usually he'll be careful about how he follows the thread, but sometimes he'll ask once and if reject just let it fester.
​
PINTEREST AESTHETIC
​
FAUX INSTAGRAM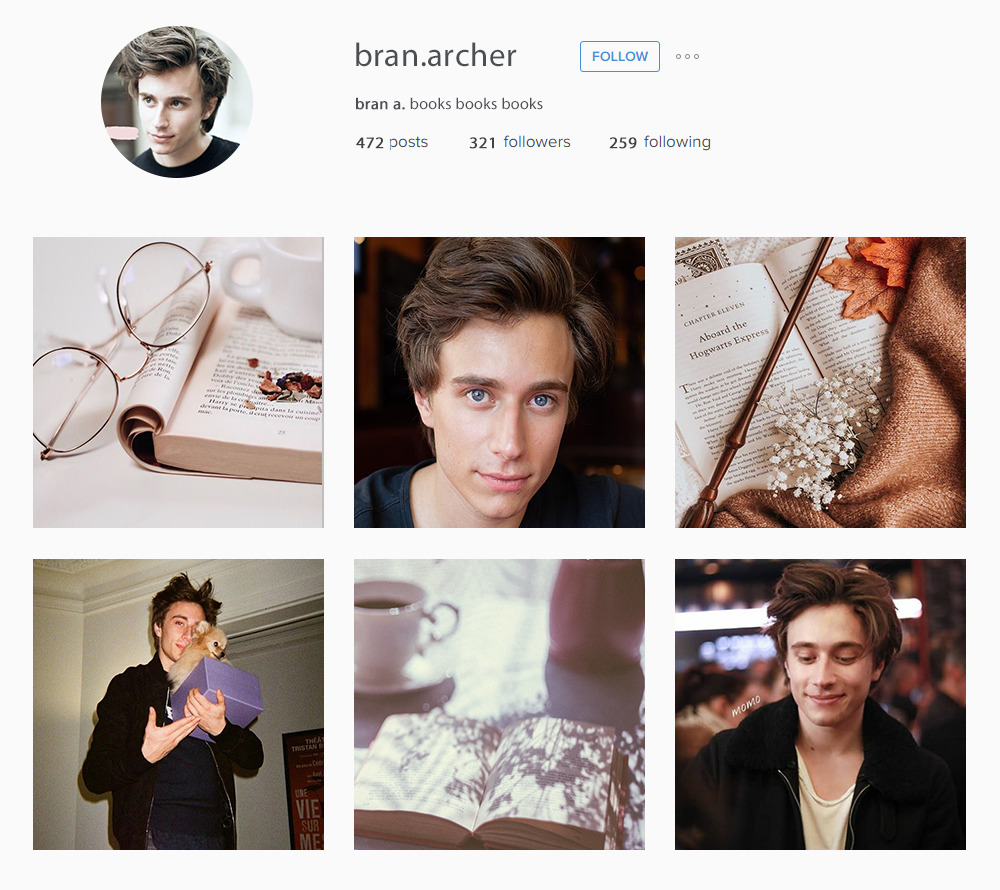 Last edited by a moderator: