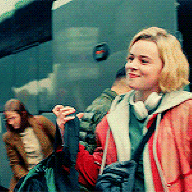 Desperately Seeking Skill
Messages

539
OOC First Name

Camilla
Blood Status

Mixed Blood
Relationship Status

Too Young to Care
Wand

Curved 12.5" Swishy Vine Wand with Fairy Wing Core
Age

14 (24/12/2042)
Renata enjoyed cooking - she had to, her mother was Italian, it was in her blood - but there was only so much she could learn from her nonna. Especially because nonnas seemed ill inclined to give any precise measurements and information to their daughters and granddaughters. As far as they were concerned, cooking was something you felt with your heart and recipes were to be pried from their cold, dead hands. And Renata had only just started getting to know her mother's family, so she didn't really want that to come around anytime soon. She liked helping out in the restaurant, listening to music with her nonno, and being around a family that expected literally nothing of her. Maybe not so much that last part, but it was still more relaxing than the alternative.
But she wanted to do something good for the arts club because everyone there was so welcoming and friendly. She'd decided to bake a cake (and maybe some cupcakes) and with her nonna's help over the break she'd been able to nail a recipe that was perfectly fine, possibly even good. Decorating was...its own challenge, but she would just have to keep trying. But she didn't want to present something that was just 'fine'. She wanted to do something that people would really like, and give people reason to like
her
for it. Not that she'd admit that last bit out loud - she knew how pathetic that sounded.
She had been told about a former Hufflepuff who was an excellent baker, though, and not having any better ideas decided to send her a letter, taking a trip to the Owlery to send it off the next time she sent a letter off to Lexi.
Dear Miss Lockwood,

I'm sorry if this is a weird letter My name is Renata and I am currently a third year Hufflepuff at Hogwarts New Zealand. I have been told that you are an incredible baker and I was hoping to get some advice from you on how I might be able to improve.

I know that probably doesn't work too well over mail but I have learned some basic techniques from my family and I can make a decent chocolate cake although I don't really know how to ice them very well or to make them really stand out in taste. Is there anything you can suggest for me to practice or tips you can offer to make things taste a little better?

I hope this isn't too strange of a request. I have heard that your bakery stall is really nice and I look forward to getting the chance to try it next holiday. Anyway if you haven't thrown this letter out already Thank you very much in advance for your help and I hope to hear from you.

Sincerely,
Renata Stepanova

P.S. Oh, and I'm trying to make something look and taste nice for the Arts Club. I'm not sure if you were a part of it when you were here but I hope that gives some context!
She almost didn't look at she sent the message, expecting not to get anything back but at least she tried, she supposed.