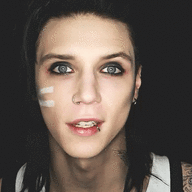 Dramatic- Loyal- Growing- Soft Boi
Messages

877
OOC First Name

Jess S
Blood Status

Mixed Blood
Relationship Status

Married
Sexual Orientation

Eternally Smitten
Wand

Cedar Wood, Hippogriff Feather core, 13 1/2 inches
Age

12/23/2033 (22)
Onyx
was beyond nervous. He didn't know if he needed to dress up or dress down, and eventually his uncle kicked him out of the house anyway. It was a little weird to Onyx, knowing that at home it was ten in the morning, only to arrive to a very dark Paris. He felt like a brat, he'd been so caught up in what he was supposed to wear that he'd forgotten to wrap Jamie's present, so it was still just in a little box in his pocket. Onyx felt completely on edge, his heart felt like it was going to beat out of his chest. He swallowed nervously as he found the club he was looking for, glancing up at the sign a moment. He checked his phone really quick- yeah, according to the clock for Paris he'd pulled up, it was about ten minutes after midnight. He let out a shaky breath, turning off his phone before slipping it into his pocket. Was he really okay to be here? What if Jamie had just been trying to be polite and Onyx was just intruding?
He shook his head, making his way up to the entrance. He wasn't sure if he was supposed to be relieved or not when upon hearing his name, he was let inside, earning a lot of dirty looks from the people who hadn't been able to go in. He ducked his head and hurried inside, the lower lights and the thumping of the music reverberating in his bones.
Oh, boy. Breathe, Nyxy, this is fine, it's great, you were invited to be here, it's alright.
He tried to reassure himself, though he couldn't seem to spot Jamie anywhere. He kept his hands in his pockets, flicking his lip ring out of habit, yelping a little as he was knocked into by some drunk guys. Feeling a bit out of place, Onyx backed up a bit, looking around to see if he could spot anyone really that looked like a French quidditch player. If he could find one of them, he was sure to find Jamie, right?