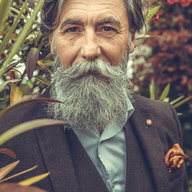 Caretaker | Red cat "Tamara" | Storyteller
the world can be a nasty place
you know it, i know it
-------------------------------------------------------
​
Full Name: Wulfy Albert Prius
Age: Unknown
Birthdate: 18th April
Place of Birth: Ottawa, Canada
Blood Status: Half-Blood
Wand: Kingwood Wand 15 1/2" with Essence of Thestral Tail Hair
-------------------------------------------------------
​
Nationality: Canadian
Sexuality: Straight
Relationship Status: Single (not looking)
Zodiac Sign: Aries (industrious and passionate about a lot of things, but needs a lot of motivation to be productive. By being as easily distracted as Wulfy is, he often ends up discovering new things, he wouldn't otherwise pay attention to. Doesn't likes creating any confusion and can be often quite blunt with people, just to make sure he has been understood. Brave, empowering and decided to succeed in everything he engages in. Always engaged i many activities.
Element: Fire
Positive traits: Very resourceful and seem to know his way around a lot of situations. Wulfy is industrious and enthusiastic when confronted with novelty and can also posses quite a keen temper. Seems to be both analytical and imaginative although he doesn't always use these right at the time they should be used. Loyal and affectionate once someone wins his respect and attention.
Negative traits: Eager and single minded, he should learn to reckon tings more if he doesn't wants to put his relations at risk and enter into all kind of confusions. Wulfy is selfish and often impolite, prone to melancholia and even depression. He considers revealing his emotions might destory that potent presentation he wants to preserve in front of others.
-------------------------------------------------------
​
Education: Hogwarts Scotland
Hogwarts House: Slytherin
Hogwarts Year: Unknown
Favourite Class: Defence Against the Dark Arts, Charms, Potions
Least Favourite Class: History of Magic
Clubs and Activities: Duelling Club Captain in HS
-------------------------------------------------------
​
Body Type: Mesomorph
Hair:
White-coloured, pretty short
Eyes:
Blue
Height:
180cm
Style:
Very classy, usually wears outfits that are considered "smart-casual"
Playby: Philippe Dumas
-------------------------------------------------------
​
Personality: A lot is unknown about this man, also his personality is pretty mysterious for people whom he speaks to. Usually pretty quiet and not so talkative, although can get pretty mean yet respectful to anyone whom he meets. Wulfy is very caring, trying not to show his good heart he has to everyone he meets on his way, so people won't start using it. Usually never talks about his history, doesn't wants it to be known to a larger public other than his relatives.
Interests: Wulfy has always spent most of his time with a Dark Arts book in his hands. He loved to dig deeper into this subject and some even judged him for doing that and thought that he was going to destroy the wizarding world, although he had never even thought about it.
Likes: Working and spending his time productively rather than just sitting in one place and do nothing. Walking around the school past student bedtime as it is the only time when school is very quiet and peaceful. Likes dealing with rule-breaking students.
Dislikes: When someone tries to push their opinion as the only one and the correct one. Doesn't like self-centred people who never seem to listen to others or just care only about themselves.
Goals: To make Hogwarts New Zealand great again
Fears: Collapsion of Hogwarts New Zealand
-------------------------------------------------------​
History: A lot years ago, in Canada, Ottawa, a boy named Wulfy was born. Nothing is known more about his parents or about his childhood, other than the fact that he is only known wizard with a surname "Prius", questioning if that is his real surname. Never has talked about his parents to anyone and even when being accepted to Hogwarts Scotland no one was sure about his real name and surname.

Spent his seven years in Hogwarts Scotland, in Slytherin house. He wasn't really the example boy that everyone should follow, rather he was breaking rules as he didn't really see the point of them. All of them to Wulfy seemed just to make sure that no one has fun in the school and everyone just spends their time studying and doing nothing. While being in HS, he even got the chance to be a Slytherin prefect. No one knew why exactly Head of House decided to make him a prefect, even Wulfy wanted to say no, but his Head of House didn't give him a choice.

Being Slytherin's Head of Houses's left hand, Wulfy started changing his behaviour and the way he treats rules and even other students. Wulfy still was something caught losing house points, although it wasn't in that huge amounts as it was before and even other students started questioning him and others to what has suddenly happened to Wulfy. No one really knew what, some said that it could be potentially because Ministry of Magic Officials made a visit to him before his first year as a prefect in HS. No one knew if that visit really happened, it was just rumours spreading around the school at the time.

After finishing Hogwarts Scotland, nothing is known where he has been for about 10 years - not even his education or place of living. After these 10 years passed, all of current Hogwarts Staff was surprised to see Wulfy join their school as a caretaker. Professors and Staff questioned him, but he never gave the answers they wanted to really hear. Even that time headmaster of HS was surprised to see that Wulfy accepted his invitation to join his school as a caretaker. On the first day, Wulfy was seen in headmaster's office with Ministry Officials. What they talked about there and what they did in school with Wulfy is unknown to anyone as Wulfy and headmaster ignored all the questions on that topic.

Working in Hogwarts Scotland for more than fifty years, everyone knew about Wulfy. He never really talked to any students, only in really rare occasions while being on patrol during night time or just going around the castle. He never had any people in that time that he could call his friends, expect his red cat that he called "Tamara". Some say that his cat was a huge help to Wulfy noticing majority of the rule-breaking that happened during his time there.

After a while, Wulfy decided that it was time to finish working in school and just take a break from everything. Everyone was surprised that he made that decision as he had spend pretty much his lifetime working at Hogwarts Scotland. His break was only few days as he realised that Hogwarts New Zealand was in a need of a new caretaker and he knew that he was the right choice for the school, so he decided to go to the headmistress and apply for the position. He got chosen and he is now ready to take the caretaker position at Hogwarts New Zealand and make the school great again.
Last edited: