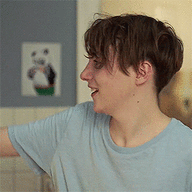 Messages

47
OOC First Name

Mika
Blood Status

Half Blood
Relationship Status

Too Young to Care
Wand

Straight 10 1/2 Inch Swishy Pine Wand with Essence of Belladonna Core
Age

13
open after @Jordan Harris
Juno had developed an idea in his brain and it was refusing to leave him alone. It had been distracting him all day, and Juno finally decided that it was time to address this rogue thought and let it run its course. The Forbidden Forest had been tempting him ever since he'd been told not to go in there, and Juno was surprised that he'd had the willpower to withstand it for so long. The forest had trees and while Juno had climbed almost every high surface he could get to across the school grounds, he missed seeking out good climbing trees to haul himself into. Juno thought he might need supplies for his endeavour, but decided that he didn't have the time to compile a list and go hunting for them before dinner time, so he decided to wing it as he ran up to his dorm.
Once Juno got a thought into his head, he was helpless to fight it. He knew that if he let himself think about it and act with common sense, he'd be stuck second-guessing himself and then regret missing out on an adventure. He'd already done enough of that this year and needed to catch up. Everybody already had their groups of friends, and while Juno greatly liked everyone he'd ever met at Hogwarts, he felt as though he hadn't been proactive enough at securing himself a solid gang of fellow adventurers like the ones every good story had.
"Hey, Jordie, I'm going to the forest if you wanna come!"
he blurted, swinging into the dorm room just long enough to swipe a pair of binoculars of his bedside table before he was off again. He was too preoccupied on getting to his destination to care if anybody was joining him or not and didn't stop until he reached the outskirts of the forest. Juno was certain that the better climbing trees would be deeper into the forest, and squinted at the treeline in search of a good direction to start with.