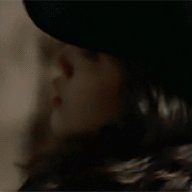 little sister | 'evie' | dragon obsessed 🐉
Messages

184
Blood Status

Mixed Blood
Relationship Status

Too Young to Care
Wand

Knotted 15 Inch Rigid Chestnut Wand with Boomslang venom Core
Age

07/2043
Set after the Y40 Valentine's Dance, following
this thread
.​
Evie had never been a fan of going out and dressing fancy. She had been feeling a little better though after the events of last semester, and whilst she had no interest in attending the Valentine's Dance that was going on, she was interested in roaming around the castle now that she could. After all, there was no one in the corridors with everyone carried away in the Great Hall and no one to tell her what she could and couldn't do. The Gryffindor exited the common room and began heading down the staircases. She wanted to try and see what she could find in the abandoned classroom. She knew there was something suspicious about that room, but she really just couldn't put her finger on it.
As Evie made it to the second floor she paused as she heard someone coming up the stairs in the other direction. She could hear them crying, and so Evie just kept to the side to let them pass. It wasn't until the person came closer that Evie recognised who it was.
"Ess. What's wrong?"
she asked, wondering why she was leaving the Valentine's Dance so soon.