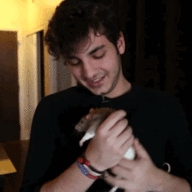 Messages

596
OOC First Name

Kris
Blood Status

Mixed Blood
Relationship Status

Single
Wand

13 1/2 Inch Rigid Hazel Wand with Essence of Belladonna Core
Age

01/2038 (16)
Kas had been feeling cagey lately, things with Michael feeling just that much too serious for him than he was comfortable with. He'd thought dating Michael would be all fun and games, which wasn't totally wrong, but maybe more just not what it was cracked up to be.
He'd escaped out to the Cliffs with Eric, certain he'd be a decent distraction from the mess in Kas' head. Drama followed Eric like a cloud and Kas was sure it'd help get his mind off Michael to just poke Eric until something interesting fell out. Like a drama pinata. So, slumped on the grass once they'd gotten far enough from the lake to be out of earshot, Kas had commenced prodding. "
What's new with you? Any fun new death rivalries? Plans for the ball? Someone we need to murder on Connor's behalf?
" He asked, eyes trained on the collection of clouds skudding across the sky overhead.