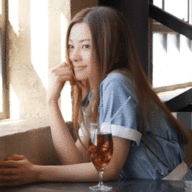 mum • all of it was worth getting here • loyal
Ai Edogawa used to doubt herself for being the Head Girl, but she got over that over a few weeks. But now, she was really doubting what the hell any teacher in Hogwarts saw in her. She was as dumb as the dumbest student in the whole world could get! It was as obvious as hell and while anyone didn't dare say it to her, except for one, who of course she hadn't seen in a while, she knew it for herself. She used to hate hearing it from him, honestly as she refused to believe it. But now would really be the appropriate time for him to appear and tell her his favorite thought of her. That stupid Hufflepuff. Well, how could she not think of herself as such. She was pregnant while in school. And guess what? She's pregnant again! It's not really a laughing matter but everytime she'd remember those two d***h***s, as she fondly calls them in her brain, or men, if they could even be deemed as such, she couldn't help but bitterly laugh at her misfortune of meeting such horrible creatures. And so, here she was back in New Zealand to talk to her former professor, Professor Elvera Le Fey. But as fate would have it, she had gotten lost somewhere along the way.

Ai really didn't know whether to cry out in frustration or whatnots. She wasn't really showing yet and neither was she having cravings, but the morning sickness was absolutely dreadful. She couldn't, or at least wouldn't, fly a broom either considering her state and decided that apparating would be bad as well. So she travelled by floo network to the Obsidian Harbour after leaving little Jai in the care of Grace and Shiloh. The first of her small journey was going well, and of course one would expect to easily find Makutu Mall, but of course, that was not Ai. Instead, she took an early left turn as she looked at her map of the Harbour and yet still followed it, thinking that she was still going the right way. Until she noticed the change in atmosphere. Looking up from her map, she noticed that this part of the Harbour was dimmer and darker than any other she had went through and the atmosphere was heavier and more depressing. Looking at her map, she had no idea where she was after the countless turns she already took. Biting her lip, she decided to move forward, deeming it more dangerous to stay put in one place, as if she had been stuck in a forest. Checking the presence of her wand every once in a while, she just hoped she made the right decision. For her sake and for her unborn child.
​