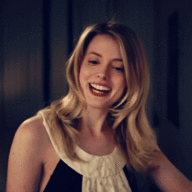 Half-Veela | Poker Face | Russian
Messages

60
OOC First Name

Alex
Blood Status

Mixed Blood
Relationship Status

Single (Looking)
Sexual Orientation

Heterosexual
Age

5/2027
Melina was glad to get out of the wintery land of Europe and land at the summer sunshine island of New Zealand, although, there wasn't really anything to do at her mother's house. A trip to Obsidian Harbour was her get go. Nevertheless the weather, the holiday spirit was still there. The harbour's street was busy of people getting last minute gifts and some are probably having their leisurely window shopping. Lina was just there to soak up the sun, read a book and probably do her own window shopping later on. She was about to get some ice cream at Florean's when Melina spotted an alley with a street sign that says Bleak Street. She had been so curious what lies inside that alley, she thought about it first, her wand was safely tucked on her hair that was bun up to hold it.

"Nothing could go wrong, right?"

Melina asked herself and made her mind to explore the dark side of the harbour. The blonde Durmstrang abandon her ice cream run and entered the cold and dark place that is Bleak Street. The warm sun was replaced by the cold cobble stone alley.