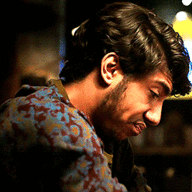 Borgin & Burke's assistant curious | necromancy
Jerara had been very, very surprised by the post he'd received towards the end of the holiday. It had been unexpected, Jerara could admit that he had maybe wanted it. That he had thought about having it, but the teen had never actually thought he'd get it. The teen had fully expected his only friend to get the badge. They were similar in a lot of ways, they'd always competed lightly, achieving similarly in classes, being from similar non-magical backgrounds and both working hard in different aspects of the school in the hopes of achieving something. Jerara hadn't been as surprised when they'd both gotten the prefect badges, but now, Jerara had head boy badge and Tristan didn't have anything. Jerara had always thought that his lack of involvement in school things would be why he wouldn't get it. Would explain why Tristan would've been the better candidate. But, then again, even in saying that, Jerara was active in places, he was part of clubs and he attended school events. He just also tended to do his own thing at them, like reading and revising during brotherhood things, or using the duelling to just see how spells worked. He spent time at the events like the Yuleball, halloween and the valentines dance, but so did so many other people - so did most of his year group and specifically Tristan. Jerara had been more educationally driven, he read and studied with his team. He read everything and anything he was curious about, finding that the Hogwarts education lacked in certain subjects so he had to fill the gaps it left. He'd always liked reading and learning because this new world presented him with so many things he'd never known about.
​
​
The head boy had seen Tristan during the sorting ceremony, and knew he'd seen the badge on his chest, and really Jerara couldn't help the little sense of pride that he felt over having achieved such a position, he hadn't worked for it, but he had worked. Relentlessly from very early on. His grades had started off lower as he got to grips with an entirely new world where every new subject had distracting branches. He'd improved his grades, taken all the classes, he'd been working during the brightstone weekends and during each of the breaks. So what if he didn't have as many friends, hadn't engaged with as many professors or students, like Tristan had, he'd worked hard for everything. It just had never been with this position in his mind as the end goal. Jerara still felt frustrated by it, he knew his friend was avoiding him, and he felt frustrated that the tentative friendship they'd built back after their fight had been mostly crushed. Jerara didn't want to be ungrateful and ask for it to be given to his friend instead, but he didn't want such a position to ruin the only friendship, true friendship he'd ever had. Certainly Jerara couldn't particular comprehend on a badge could mean so much. Jerara knew he was a bit of a loner, usually with his head lost in his books. Thinking about this that and the other thing, and wondering why there wasn't one breath dedicated to teaching them about some of the darker branches of magic. Tristan was the only person he could talk to, especially since Ellie had been graduated a whole year now.
​
​
Jerara wanted to talk to Tristan but he knew his friend was avoiding him, and really Jerara wasn't sure that if they did talk that anything productive would come of it, he didn't want to fight with him - not again. He didn't want to argue with him. Jerara had tried finding him in the prefect's common room, but it was a half hearted attempt in looking for his friend. He had a book under his arm and decided to head back up to Ravenclaw, or well the ravenclaw area. Eventually he got to the north tower, not a place he usually tended to go, Jerara had always spent more time where he could sit with a book and study, but he had a book and sitting on the window sill would be as good a place to study. The teen looked out the window, seeing vaguely the reflection of the head boy badge on his uniform, he was still somewhat in surprise over it, trying to figure out what he'd done to deserve it over Tristan. The head boy sat awkwardly on the ledge, with long lanky limbs going a bit everywhere as he rested his book on his lap and turned to the page he was on. The book was old and worn, it wasn't a book he'd ever finished, but it was a second hand novel. The one he'd been reading before he'd moved on to almost entirely magical books, it was an old book about the history of agriculture in northern australia, he picked off where he'd last stopped some six years before, reading had always brought him more joy and peace that any person, event or class could. He could jsut sit and read and the title of head boy wouldn't matter at all.
​