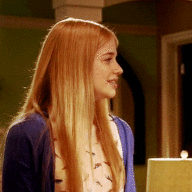 *Capri Icland child| Sweat| Dreamer|Ice cream*
The Basics
.
Name: Hailey Moira Angela Darling
Born: December 31, (11)
Home: Capri Icland
.
​
Full name: Hailey Moira Angela Darling
Name meaning:
A girl's name meaning "dweller in the hay meadow," Hailey is spelled over 10 different ways—Haeley, Hayleigh, Hayley, etc.—but doesn't leave a faddish aftertaste. However you spell it, this name sounds sweet and lasting.

Nikcnames: Hailey don't have a nicknames.

Age: Right now is 11 years.

Born: Capri Icland, Italy.



Patrounus. Otter

Horoscope:

December 31 birthday personality is organized people who are capable of keeping their financial records current and accurate. You need to keep your life in order and planning helps you to do this.

Sometimes you take on too much responsibility, however. This makes it hard for you to be on time or make it to an event or appointment. You hate this, but sometimes you need to be social. The future of person who born on 31 December depends on the current connections they make.

The Capricorn horoscope predicts that you like to travel. It provides you with a new vision and perhaps, a new goal. You are inventive. You have great instinct and know when it's best to keep quiet or to voice your opinion. With your new attitude, you should learn to relax and enjoy life more. Do things on the spur of the moment instead of planning everything you do.

Capricon positive straights.

Loyal

Capricorns are pure souls. They have got a heart of gold. They are basically just genuine and loyal to the core. One can not measure their depth of kindness and willingness to help others. One can depend on a Capricorn to be there when in need and they will defend you, no matter what it may entail. They take their responsibilities very seriously.

Negative stright:

Capricorns are overly serious and sober individuals having a strong sense of built-in responsibility to protect and provide for others. Reserved personality of Capricorn and serious demeanor can make them appear standoffish, aloof, and rigid to the point of not being fun.

Critical

Capricorns are often overly critical to others. They expect others to live by their rules which might put pressure on their near ones.

Melancholy

There could be times when the Capricorns might seem melancholy and also depressed. They have the tendency to become melancholy due to which they want someone who can make them happy as well.

History:
Hailey was born in Capri Icland, a small and lovely village. If it could be counted too small. The fresh air, the peaceful atmosphere that prevailed in the village, gave the court a positive impression of the place. The girl was born on a cold December evening, when the sun went to bed and then the moon shone. She was a highly anticipated child in the Hailey Darling family and the Aaron Fox family.
The girl's mother was a purebred witch for several generations, but the father was born into a boar family. Magic was not the daily life of the Fox family, but it was not rejected. Even when Heiley began to show the first signs of his magic, destroying certain things. However, all this was kept a great secret. Nevertheless, the girl attended a local school, studied diligently and was almost a role model. However, she was not in love with her peers, she was not the most beautiful, slender or otherwise stood out to become popular among children. The girl was who she was. True. It was not easy to fit in with her peers, especially knowing that she was really different. There were times when inexplicable things happened around the girl, which only the girl herself sensed and she just wanted to tell everyone, to explain, but then the girl would be considered even more strange. Only one person knew what she really was. It was her best friend Jasmine.
Hailey read a lot and was interested in what was happening in the magical world. The girl had hundreds of books on spells, magic plants, animals at home, but until she was 11, she couldn't even imagine that she would be a part of this world.
The letter from Hogwarts changed everything. Although Hailey did not know what it all meant and how this new world would affect her future life, she was happy. The first year she will no longer have to hide. Although there was a lot to read, seeing it all with your own eyes, feeling and creating was completely different. It was not accepted in the family, so the new world was a challenge that the girl was looking forward to, but on the other hand - with fear. The unknown was always scared.
Looks:
Darling's eyes are emerald green, shining brightly in the dark. Her blondie curly hair extends over her waist and although she has long hair, Hailey always left them out. Harley has an attractive and affectionate smile as well as a small nose. The girl herself is thin, but not too thin. She is similar in height to other girls. Not too long, not too short. <br> The girl often wears dresses and avoids wearing trousers. The clothes are always light, bright shades, as are her hair and eyes.
Character. By nature, Hailey is quiet, but she is not shy. With a sharp mind. Hailey is an elegant girl who comes from a magical family. Witty but sincere. Always with a kind smile on your lips. However, no matter how elegant she is, in her free time the girl likes to do naughty, always getting into various adventures and troubles
Last edited: