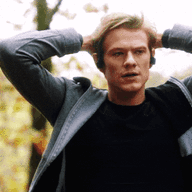 Squib | Teagan's Twin | Football Player
Messages

26
Blood Status

Half Blood
Relationship Status

Single (Looking)
Sexual Orientation

Heterosexual
Age

23/08/2029
Reagan finished practice that morning, his team was about to play a game next week and they're all pressured to work harder. That's why he set himself to practice early and by the afternoon, his mind was well managed. At last, well cleaned after a sweaty practice he went back to his apartment. His cat Darcy greeted him but the hooting took his attention. Reagan's owl was perched on her favorite sofa.
"Hey, Lily. Ready to deliver a letter for me?"
He told the owl while approaching his study table. A red envelope lay lifeless on top of the study.
"You know what to do."
It was like talking to a child, Reagan attached the letter on the owl's leg.

It was a response for his friend that he met a couple of months back at the zoo while he was taking his cousins out. She wanted to meet again but in Brightstone, a village near Hogwarts. Reagan let the owl out of his apartment window and after, did a last-minute check on his email and other work stuff before settling himself to touch the expensive vase in the corner of his living room. The only way he can travel inside the wizarding world was portkey that was given to him by his mother. Reagan wasn't the lucky child, he didn't get magic even though he was twin.

The man took a deep breath, closed his eyes, and touched the vase. He can't specifically tell what he was feeling once his feet touches the ground again. But doing the portkey too many times, he looks like an expert traveler already. Although, it would be easy if he was born with magic. The man resented his sister for a while because she has everything on her but that subside once he manned up and grew up. Reagan continued toward the small village, no clue where to find his friend.