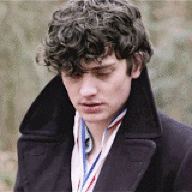 loner + new and confused + bullied
Messages

9
OOC First Name

Charlie
Blood Status

Muggleborn
Relationship Status

Too Young to Care
Age

9/2043 (11)
Learning about the existence of magic had been quite a huge surprise to not only Zagreus, but his mother and step-father as well. His mother had taken the news a lot better than his step-father had, but that was not really much of a surprise. Zag was well aware that his step-father didn't like him, this just gave the man one more thing to berate and shout at him about when his mother wasn't around to hear. Thankfully, his step-father wasn't around right now and instead his mother had decided to take him to Obsidian Harbour to have a look around and familiarize themselves with it all before they had to come back to buy all of Zag's new school supplies. But his mother had quickly abandoned him, telling him to stay right where he was while she went to see where they were supposed to get 'wizard money' from.
That had been about twenty minutes ago. Not that Zagreus was counting. And he had done as he was told, standing exactly where his mother had left him in silence the whole time, hazel eyes flickering from left to right down the alleyway. He was looking in the opposite direction when someone approached, and Zag could only assume that he was standing in the way and they wanted to pass.
"Sorry,"
the eleven-year-old mumbled as he took a step back, leaving enough room for the person to get past if they wanted to. Though he was sure there had been enough room anyway.
Last edited: