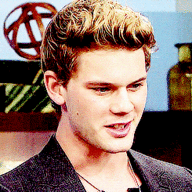 Ice Hockey Player | Big Brother | Protective
Troy was glad to be entering his final year at Hogwarts, perhaps that meant he would be able to resume his true passion back home, though he knew he'd have a hard time explaining why he gave up ice hockey at the age of ten only to suddenly resume playing at eighteen. Perhaps he was doomed never to play the sport professionally after all, perhaps Troy would never see his name emblazoned on a trophy like the many that filled the trophy room. Troy had come down to the trophy room to escape the buzz of the new school year and that of the club fair. It seemed pointless to join clubs in his final year that he hadn't before and really no club was offering what he wanted.

While the fair was going on a mere few feet from him, Troy was stood in front of an empty section of the wall with a hockey stick in hand and a puck on the floor. "Gusev to Anisimov, he passes to Sorokin who passes to Romanov, Romanov has been playing like a man possessed during this game. Romanov passes to Grigorenko who quickly passes back to Romanov who has slipped past the defener, he shoots he scores! And the crowd goes wild!"