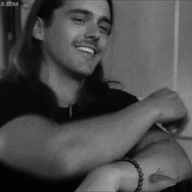 musical maestro;passionate; accio! editor-in-chief
Messages

744
Blood Status

Muggleborn
Relationship Status

Too Young to Care
Sexual Orientation

too young
Wand

Knotted 13" Sturdy Pear Wand with Phoenix Tail Feather Core
Age

09/2041 (15)
Eugene hadn't been enjoying Defence Against the dark Arts, like it was interesting enough when they covered spells and jinxes and that. The previous year with the creatures had been interesting, but these curses, these unforgivable curse. They were not fun. The last of which had been the killing curse and Eugene had known he should avoid it, he would gain nothing from seeing it, he could read about it. But the part of him which dutifully went to lessons had gone and now he felt awful. His hands were lightly shaking, his mind still seeing the flash of green and he was thinking of his mother. She obviously hadn't died by a killing curse, but he didn't often think about her death. Didn't consider the fact that like the tick that had been killed in the class, she had been aware one moment and not the next.

Eugene had been young enough at the time of her death, just about seven years old, he hadn't really known what was going on, and though he always had his mother on his mind, he knew he'd been shielded somewhat from the details of her death. Seeing the spell, how quickly it had happened, remembering the pain of the tick from the previous lesson, Eugene wondered if his mother had suffered, if she'd been in pain, if she'd thought of him at all. He missed his mum a whole lot. She'd been his entire world more or less when she'd been alive, he liked his life a whole lot, he was busy, he had good friends, a band, he played his guitar all the time. He loved living with his cousin, but he would exchange most of it for more time with her. To ask her about her life, about her dreams and passions, just to tell her how much he loved her.

Eugene had come out to the ground, settling himself with his guitar under the tree at the lake front. His fingers were shaking as he clumsly played the guitar. Music was his go to, he needed to be playing, needed to be able to take his mind off it because he was spiralling. There was something in the back of his mind that told him he should be doing something, but he couldn't think of anything specifically and Eugene was always needing to do something. He just let himself focus on the tune he was trying to play and stop letting himself focus too much on the lesson and his mother. ​