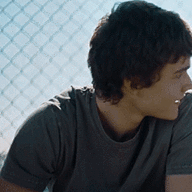 Hufflepuff 5th, Animal Lover, Menagerie asst.
Messages

698
OOC First Name

Mia
Relationship Status

Interested in Somebody
Sexual Orientation

gay
Wand

Curly 12.5" Flexible Chestnut with Mermaid Scale Core
Age

15 (05/2039)
((Set in the hospital wing after the Hufflepuff Vs Ilvermorny match))

Linden's shoes pounded the stone steps of the castle as he made his way up to the hospital wing. he knew that he should be celebrating with the team, or with HIS Lucas making sure he was okay, which he had done for a little while until he was sure Lucas Fletcher was alright, he didn't just kiss and run. the outcome that seemed almost impossible at the start of the year, Hufflepuff the overall quidditch champions. and Hufflepuff winning the match without the snitch having been caught.
needless to say, lin was on a high of adrenaline and the emotional rollercoaster that had been the match. and he wanted to talk to the Ilvermormy chaser before the rest of his team finished in the changing rooms and before they had to depart back to the US and he wasn't sure how long they would have. but they surely wouldn't go back if they were still needing the hospital's attention. if the nurse was to question him about bursting into the hospital wing he would say something about his upset tummy though it had well and truly cleared up.
He slowed down outside the hospital doors and waited a second taking a couple of deep breaths giving his heart a moment to slow down after he had run up from the pitch. he probably should take a leaf out of all of his other family members' books and run more. he opened the door and walked in he could see the chaser easily and made his way over to the foot of his bed. "G'day. it's Lucas isn't it?" he said not sure how else to start the conversation or really what he was here to say.