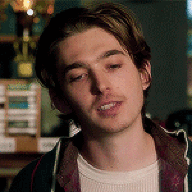 weirdo 👻 latchkey kid 👻 curious
Messages

130
OOC First Name

Kadi
Blood Status

Half Blood
Relationship Status

Too Young to Care
Wand

Straight 9 Inch Sturdy Ash Wand with Phoenix Tail Feather Core
Age

02/2045 (12)
Ethan would never admit it but he was a little scared about what might happen. The plan had fallen into place rather quickly. A little too quickly and he hadn't had much time to mentally prepare. It all started with the ouija board he had gotten over the break and decided to bring to school. There were plenty of visible ghosts around school but he was curious to see if there were ones they couldn't see. Surely there were more in a place this old. But then Weston had seen him fiddling with it in the common room and proposed an idea he couldn't deny. The older boy had seen the eel. The actual eel in the lake. While Ethan had seethed with jealous, his curiosity got the better of him when he mentioned the theory about it eating people. If they could summon a ghost by the lake that had been eaten by the eel, that would be all the proof they needed. And if the eel decided to make an appearance while they were out there, Ethan wouldn't complain. He kicked a few of the larger rocks out of the way before setting down a small blanket for them to set up their tools. Ethan sat down and took a deep breath as he opened the box to the ouija board.
"Are you sure about this?"
he asked and did the best to keep any worry out of his voice. He was trying to be brave and not seem like a scared second year but he wasn't sure if he was doing a very good job of it.