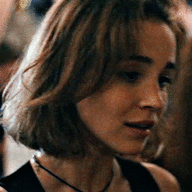 Messages

36
Blood Status

Muggleborn
Relationship Status

Too Young to Care
Sexual Orientation

??
Wand

Curly 15 1/2" Swishy Chestnut Wand with Augurey Tail Feather Core
Age

05/2048 (11)
Callie was in awe of this new place she had found herself in. She was of course confused, confused about all of it but in awe. The school was grander and more beautiful than anything she had ever seen and she was surrounded by a feeling of magic, surrounded by magic. Callie was glancing every which way as she entered a hall that very much could be called great. She stood in amongst the other students at the front of the hall as a man started speaking, and then a hat started singing. She heard someone whisper that it was enchanted and she thought that was selling it a little short. It was enchanted, yes, but it was enchanting. She ended up being one of the first names called, and gave a small greeting to the headmaster before she took her seat on the stool. The hat was placed on her head and she closed her eyes. Not sure what would happen next and just ready to find out.

"Strange new world, right? Bet you never thought you'd see a talking hat. Let me have a look and see where you'll spend the next seven years. It seems like you have a good head on your shoulders. That will suit you well as a witch, and in your new house...Hufflepuff!"​
Last edited by a moderator: