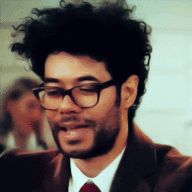 History of Magic 5-7 | Laid back | Friendly
Matt's last lesson had included a very long lecture, and he hoped he hadn't scared off some of his Sixth Years with it. This time it would thankfully be shorter, something he was sure they would appreciate. On the other hand, he figured that this point only the kids that really wanted to take this class were still taking it, so he felt confident that they would understand that longer lectures were a part of that. If they wanted to pass their NEWTs, they had to know a lot of information.
He smiled as his students filed in, leaning against the desk again.
"Hello again, everyone. Today I hope not to bore you with a long lecture, and I'm sure you're all mourning that."
He smiled at them to show he was joking.
"We're talking about another founder today, one with a less dramatic past as Slytherin. This time we're talking about Godric Gryffindor. And yes, you do have to take notes."

"Unlike the other founders, we actually know for a fact where Godric lived. He came from "wild moor," though more specifically he was born in the West Country, in a place that is now known as Godric's Hollow."
He paused.
"What a coincidence, huh?"
He chuckled at his own joke before going on.
"He was also an accomplished dueler, and an avid fighter against Muggle discrimination. He believed that anyone with magical ability should be allowed to go to Hogwarts. As you may remember from the last class, this clashed with the way Slytherin saw things, causing the latter to leave the school."

"One artifact of Godric Gryffindor is something we all know, it's the Sorting Hat. Another object that used to belong to him is a goblin made sword adorned with rubies. The colors of his house are gold and red. And as you probably know, the emblem is a lion, which reflects the quality of bravery."
Glad to be at the end of his lecture, Matt clapped his hands.
"And that's all the basic information about old Gryffindor. I won't keep you any longer, so I will hopefully see you all next week."
---
Homework Assignment:
Full Marks: RP Lesson