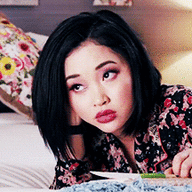 Messages

1,011
OOC First Name

Ana
Blood Status

Half Blood
Relationship Status

Single
Wand

Curly 11.5'' Sturdy Elm Wand with Meteorite Dust Core
Age

15
When the parcel crashed onto the table in front of Celia, nearly knocking over her breakfast, she barely blinked. Yesterday had been her birthday, and today was the Lunar New Year. She had been getting owls every morning for days now, each carrying cards and presents from assorted relatives. Celia barely knew most of the people sending her gifts, but she wasn't about to complain if her mom's family wanted to shower her in beauty products and red envelopes.

There was one person she hadn't heard from yet, though, and Celia tried not to think about this as she carefully ran a fingernail under the tape and undid the wrapping. Inside was a package of candied coconut ribbons, the kind that popped up in storefronts all over Hanoi right before the new year. Disappointment washed over Celia. It was just another gift from one of her mom's many cousins. She almost didn't bother opening the accompanying card — no doubt it contained some kind of new year's greeting she could barely understand — but then changed her mind in case this particular relative had also decided to send her money.

The card did not contain a red envelope, but it did have her dad's handwriting. For a second, Celia couldn't breathe. She read the note once. Then twice. Then three times. And then she tore it in half. The disappointment curdled into anger, and she continued to shred the card, not stopping until she had a small pile of paper wisps. It wasn't what the note said — a perfunctory note wishing her a happy new year — that bothered Celia, but what it didn't say. Nowhere in the card had he mentioned her birthday.

Because he'd forgotten. He had somehow remembered that it was the Lunar New Year — a holiday they hadn't even celebrated back home — but he'd forgotten her birthday. Celia felt hysterical as she looked at the candies, only noticing now that the packaging was in English. No doubt this whole thing was her dad's attempt to reassure himself that he was a good father despite effectively abandoning his only daughter. Celia didn't think twice before dumping the shredded paper into an empty glass. "Incendio." The paper caught fire, flames dancing in the glass. Now she just had to get rid of the candy. She turned to a person sitting nearby, not caring who it was. The important thing was that she got rid of this now. "Want this? It's candy." Not waiting for an answer, she shoved the package towards them. "Here, all yours."