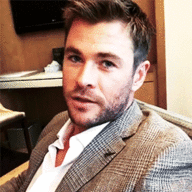 🍬 1-4 charms; class of '28; family guardian 🍬
The professor was looking forward to this lesson because they would be doing two spells today, and he thought his fourth years would find it interesting. He waited for the students to take their seats, Professor Kain himself was sat on one of the benches as he waited for them to file into the room. Once they were settled, he jumped off and turned to face them, rolling up his sleeves with a smile on his face.

"Hey guys. Hope everyone's ready to go? Today we will be doing two charms. The Amplifying Charm and the Quietening Charm,"

he began, curious to know what the students would do once they could do this spell in their own time. As a student, Kain had used the amplifying charm to overhear a conversation that wasn't intended for his own ears, and it had not ended well.

"These are complete opposites and quite effective in countering each other. When you use the Amplifying Charm, you can use the Quietening one to even out the effects, to save you using Finite."

Professor Kain was walking between the benches as he spoke, making sure he had everyone's attention.

"Shouting and using the Amplifying Charm doesn't make much of a difference when it comes to stress to the vocal chords really, because as it when it come to shouting, when you use the charm for long periods, your voice will be quite hoarse,"

he hoped that the students weren't going to over do if they tried it themselves.

"The Quietening Charm is comparable to that of a whisper that you'd have to strain to hear the one who is under its effects so I don't want you using this in future lessons to not listen to me!"
​
"So there's no wand movement for this, you just need to point your wand at your target. However, let's see who remembers the incantations."

He said, pointing at one of the students who hand their hand up.

"The Amplifying Charm?"

Professor Kain nodded when the student got the answer right,

"Yes, and the Quietening Charm?"

he asked, picking a second student.

"Very good! So we're going to just run through these as a class too to make sure our pronunciation is correct."

he smiled,

"We'll begin with Sonorus for the Amplifying Charm, "soh-NOHR0-us", wonderful, and the Quietening Charm, Quietus, "KWIY-uh-tus" Excellent job."

Professor Kain looked round the room, ready to move on to the next part.

"Now I want you to partner up and give these charms a go. If you have any problems I'll be floating around!"

he finished, letting them get on with their work.
---
​
Roleplay the lesson for full marks
​
Two people answer the question for additional house points
​