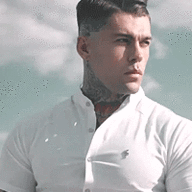 healer ✠ volatile ✠ 11'9"
Messages

62
OOC First Name

Kaitlyn
Blood Status

Mixed Blood
Relationship Status

Single (Not Looking)
Wand

24" Cedar with Acromantula Web Core
Age

5/1/2033
It was right around lunch time, and Kaelan Borisyuk made sure to head that direction toward the end of the hour so that he did not have as many tripping hazards as he walked. That was why he did not work with people often because humans in general were just so fragile. Plants, potions, and poisons were all easy for him. He really loved it when the plants tried to fight back. The bouncing bulbs gave him very little challenge, but it wasn't often when he actually felt something hit him. Kaelan walked into the cafeteria and conjured himself a chair that he could sit in comfortably while he drank one of his protein shakes. Things like that gave him enough energy to keep going before he would cook a feast for himself at home. Cooking at home made him more relaxed overall. Plus, now there were less people here to bother him or stare at him. Kaelan knew that he was drop dead gorgeous but still, sometimes the staring got a little irritating.
​